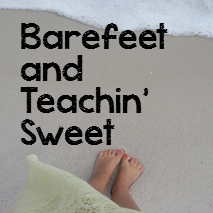 One of my best friends, Cynnamon has finally created a blog! I've been urging her to do this for two years now because she's just going to be the perfect blogger. I have been lucky to work with her for the past 3 years and she is SUPER creative, has the cutest ideas, and has a passion for teaching. She also hoards clip art so clearly she'll fit right in with us in the bloggy world!!
Not only will does she have a ton of great ideas to share since she's the most creative teacher ever, I think her blog this year will come from a unique perspective that a lot of teachers can relate to because this summer she made a huge move- she's going from being a 2nd grade teacher in Virginia to being a 5th grade teacher in Florida. So she's got some great ideas from her past in 2nd grade and she'll no doubt be coming up with some fabulous ideas for fifth grade this year.
She just wrote her first blog post so hop on over to show her some bloggerly love!